Pf.Nobuhiro Aihara, the animator and the director past away.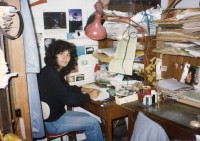 Mr. Nobuhiro Aihara, the professor of Kyoto University of Art and Design past away during his visit Bali in Indonesia. He was 67 years old.
Aihara joined Studio Zero and Oh!Production before and had released his own artistic works, as he had worked as an animator for TV animation. He was one of the top creator of experimental animation in Japan.
We are very sorry and hope he rests in peace.