もりやすじ画集
This animation and illustration arts book tells us the real value of great maestro!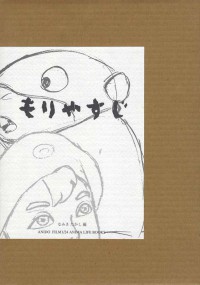 Author : Yasuji MORI <Biography>
Executive Editor : Takashi NAMIKI
Foreword : Norio HIKONE
First Edition : September 1993
A man called "A GOD OF JAPANESE ANIMATION"!!
Yasuji MORI was master animator of Yasuo OTSUKA for "Lupin the Third", Yoichi KOTABE for "HEIDI" "MARCO", and Hayao MIYAZAKI well known to all over the world for "Princess Mononoke" "Spirited Away" and so on.
Contents :
The first half introduced THE PICTURES FOR CHILDREN'S MAGAZINE. "Itazura Pipo (naughty PIPO)" from legendary magazine "Manga-Shonen (Manga- Boys)", THE COVER ILLUSTRATIONS of the monthly magazine FOR NURSERY SCHOOL TEACHERS, and THE DESIGN ARTS FOR THE PLAY, etc….
The second half of this book was made up of MANY DRAWINGS FOR ANIMATION WORK. Mainly the works drawn when he had belonged to TOEI ANIMATION STUDIO, like "HAKUJADEN(The White Snake Enchantress)", "WANPAKU OJI NO OROCHI TAIJI(Little Prince and the Eight-headed Dragon)", "TAIYO NO OJI HORUSU NO DAIBOKEN (Little Norse Prince Valiant)" and "NAGAGUTSU WO HAITA NEKO(Puss'N Boots)".
Besides, THE COLOR IMAGE BODES of "ALIBABA and 40 Thieves", "Holy Nights of Animals" -which were only planning and not produced – were shown for the first time. There are also many HIS DRAWINGS, SKETCHES FOR THE PLANNING OF TV SERIES after he got freelance.
The end of the book, you can know about his background with many photos.
■SIZE:A4 (H297×W210mm)
■248 pages
■Hardcover with special box
■Language : JAPANESE, ENGLISH