もぐらノート〜もりやすじ画集2〜
Yasuji Mori, one of the greatest Japanese animator was also the great illustrator. This illustration art book tells us the real value of the great maestro!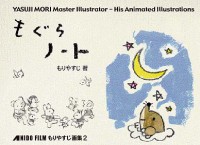 Yasuji Mori2: Master Animator – His Animated Illustrations
This book published as the second version book of Mori's art works collection, mainly included his illustration appeared on the magazine such as "a Little Child and Preschool Education" "Mommy", or the children's book such as "Cinderella" "Thumbelina" "Snow White" "Peter Pan" and other Japanese folk tales.
You can enjoy over 400 pieces of illustration with a lot of color pages (about half of the book)!
His essay on the Disney and Ghibli works, or the other his fellow animators was also included. (Japanese only)
Author: Yasuji MORI
Executive Editor: Takashi NAMIKI
Foreword: Isao TAKAHATA
First Edition : February 2006
[Yasuji MORI's profile is here]
■SIZE:A4 (H210×W297mm)
■160P
■Hardcover
■Language : JAPANESE(Text is a little included)
For the anniversary of publishing, we produced T-shirt, Post cards set, Memo Pad, Bag and calender.