写真集 Animated People in PHOTO〜世界のアニメ作家たち〜
Genuine portraits of "Animated People" from All Over The World!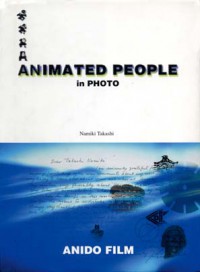 TAKASHI NAMIKI : ANIMATED PEOPLE in PHOTO
Author & Editor : Takashi NAMIKI
All Photo by Takashi NAMIKI
Illustration : Masahiro KATAYAMA
This book is a photographic chronicle of friendship between the author and the "animated people" animators, directors, historian, producers, staffs of animation festival, and whoever concern with animation job. The author and the photographer Takashi Namiki is animation historian besides a producer, who respects those people very much.
First Edition : June 2000
size: A5 (H21mm~W148mm) 112P
Hardcover
94 photos are all monochrome
Language : The captions of photos : English/The object's profile : Japanese
Contents(People in the book):
Alexandre Alexeieff / Aleksandra Korejw / Alexandre Petrov / Barbel Neubauer / Barry.J.C.Purves / Bernard Palacios / Bob Godfrey / Bob Kurtz / Bob Stenhouse / Borivoj Dovnikovic / Bretislav Pojar / Brothers Quay / Bruno Edera / Bruno Bozzetto / Caroline Leaf / Charles Solomon / Chuck Jones / Csaba Varga / Dingxian Yan / Edit Bleier / Edoward Herscovitz / Eva M.Toth / Fedor Khitruk / Ferenc Mikulas / Frank R.Thomas / Frederic Back / Fusako Yusaki / Garry Bardin / Georges Schwizgebel / Giannalberto Bendazzi / Gizella Neuberger / Igor Kovalyov / Ishu Patel / Jan Svankmajer/ Jacques Drouin / Jean-Luc Xiberras / Jean-Francois Laguionie / Jimmy Teru Murakami / Jiri Barta / Joan C.Gratz / John Halas / Josko Marusic / Jozsef Gemes / Karel Zeman /
Les Drew / Marcos Magalhaes / Marec Fritzinger / Maria Horvath / Mark Davis / Mark Baker / Michaela Pavlatova / Michel Ocelot / Myron Waldman / Nick Park / Nicole Salomon / Paul Grimault / Paul Driessen / Pavel Prochazka / Pavel Koutsky / Peter Szoboszlay / Prit Parn / Raoul Servais / Ray Harryhausen / Renya Onasick / Shuchen Wang / Veronique Steeno / Vlasta Pospisilova / Ward Kimball / Wei Te / Wendy Tilby / Will Vinton / Yuri Norshtein / Zoltan Varga Szilagyi
Kazuko Komatsubara / Takamura Mukuo / Hayao Miyazaki / Osamu Tezuka / Kihachiro Kawamoto / Yoji Kuri/ Yoichi Kotabe / Yasuo Otsuka / Tadanari Okamoto / Yasuji Mori / Isao Takahata / Norio Hikone / Taku Furukawa/ Fusako Yusaki / Syo Yoshimura/ Ryotaro Kuwata / Goro Sugimoto / Tadahito Mochinaga/ Shinichi Suzuki / Seiichi Hayashi / Kazuhide Tomonaga/ Yoshinori Kanada / Kenzo Masaoka / Masao Kumagawa