True face of Mr.Mori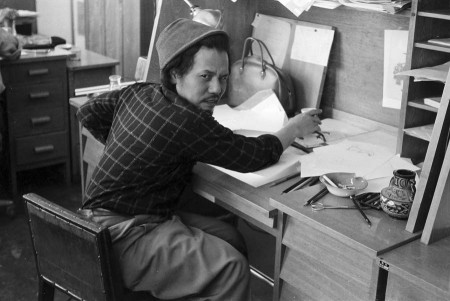 Mr. Mori was a not only shy but also very modest person.
When we, ANIDO went to ask for the permission to publish his book, he modestly answered "My book doesn't sell well." But we really wanted to publish his book so we got his permission convincing him by force. During editing his book, Mr. Mori never complained and ordered us anythig but he was just looking at our sample and smiling.
However despite of his smiling face and gentle attitude to others, I heard and read that he was a scary great master of animation when he worked energetically at Toei-Douga. It doesn't mean literally 'scary' — no shouting, no scolding —  just looking at drawings of young animators and correcting them with pencils, but I imagine that people got frightened at Mr. Mori's extremely high-level skill.
If there were "Time machine", I'd like to go back to the past and work under Mr. Mori as an animator. But I would be too embarrassed to stand by him during his correcting my drawings.
And another "true face" of Mr. Mori is a pleasant and funny entertainner.
ANIDO's origin dates back to the party called "ANIME MATSURI(animation festival) which was held at Toei-Douga. And its highlight was Mr. Mori's ballet dance in a tutu.
Here is another good example that shows his unique sense of humor. One day  he was walking along shopping street in Yokohama with his family. When his wife popped into a shop to have a look and then came out, Mr. Mori was imitating a beggar sitting at the corner and making a gesture of asking for something to his hat.
Through his Nichidou, Toei-Douga and Nihon animation periods Mr. Mori was very popular among women all the time. Now I understand why — it's simply because he was very attractive just like his drawings and illustration.