Yasuji MORI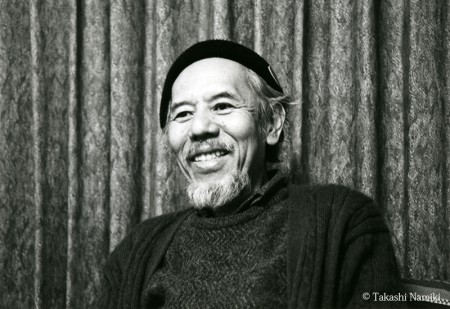 Photo:Takashi Namiki
A man who is called "The God of Japanese Animation"
Born on 28 January, 1925 in Tottori, Japan, Yasuji Mori grew up in Taiwan.
In 1948 he graduated from the National University of Fine Arts in Tokyo, having
studied architecture.
He saw an American animated shorts, however, and decided to become an animatorinstead. He joined Nippon Doga, where he met Kenzo Masaoka and Sanae Yamamoto,pioneers of the Japanese animation. Having done inking for "Torachan to Hanayome / Trachan and the Bride,"he begin animating for the shorts, "PoppoyasanNonki Ekicho / The Carefree Stationmatster," followed by "Kobito to Aomushi /The Little Man and a Catarpillar," under the instruction of Masao Kumagawa andHideo Furusawa.
As the company underwent a period of restructuring, Mori moved to Seibu depart-ment store where he designed posters for publicity; he also began illustratingfor the monthly magazine, Manga Shonen, as well as recieving commissions from other prestigious publishers like Shogakkan and Kodansha, starting a lifelong career in children's literature illustration.
Mori returned to animation to co-direct "Kousagi Monogaari / The Story of Little Rabbit" with Taiji Yabushita and rejoined Nichido Eiga-sha(formarly Nippon Doga) in 1955. For "Kuroi Kikori to Shiroi Kikori / The Black Woodcutter and the White Woodcutter" he was responsible for screen-adaptation, character design and key animation. When Nichido Eiga-sha came under the auspices of the Toei Group to become Toei Animation Studio in 1956, Mori was at the forefront ofthe animation production division, a position he continued to dominate ever since, within the environment of rapidly growing industry.
At Toei, Mori contributed greatly to the growth of the studio which became the largest in Asia, with such films as "Hakujaden / The White Snake Enchantress / Panda and the Magic Serpent," the first animated feature in color to be made in Asia, "Shonen Satutobi Sasuke / The Adventures of Little Samurai Magic Boy" and "Saiyuki / Alakazan the Great." With "Wanpakuooji no Orochitaiji / Little Prince and the Eight-headed Dragon" in particular, Mori created what may be called an uniquely Japanese animation art – by unifying the look of the whole film with a style quite unlike anything that had been seen previously. Also, while working on such features as "Taiyo no Ooji Horusu no Daiboken / Little Norse Prince Valiant" and "Nagagutsu o Haita Neko / Puss'N Boots," and on shch shorts as "Koneko no Rakugaki / Kitten's Scribbling" and "Koneko no Sutajio / Kitten's Studio," Mori nurtured the talent of those animators who went on to build notable careers of their own – Hayao Miyazaki, Yusaku Sakamoto, Yasuo Otsuka,Norio Hikone, Reiko Okuyama, Isao Takahata, Sadao Tsukioka, Kazuko Nakamura, Makoto Nagasawa, Seiichi Hayashi, Gisaburo Sugii, Yoichi Kotabe, etc…
After moving to Nippon Animation in 1973, Mori worked extensively for television – desining characters and directing animation for "Yamanezumi Rokkiy Chakku / Rocky Chuck," drawing conceptual sketches as well as directing animation for "Arupusu no Shojo Haiji / Heidi," "Furandasu no Inu / A Dog in Flanders," "Kuma no Ko Jakkiy / Little Bear Jackie" etc. During that time, Mori continued to illustrate children's books, such as "Folk Tales of the World" series for Kodansha and Popurasha, and the cover illustrations of the monthly magazine "Yoji to Hoiku / Infants and Nursing". In "Fushigina Kaban / The Strange Bag" and "Hariemon no Kusuri wa Oishiika / Is Hariemon's Medicine Tasty?" in paticular, he was showing the maturity of his talent before his death on 4 September, 1992.
His published works include "Yasuji Mori : Master Animater – His Animated Drawings(edited by Takashi Namiki / Anido Film 1993), "Mori Yasuji no sekai / The World of Yasuji Mori(edited by Hayao Miyazaki)"(Nibariki 1992).